The Story of the Via Ferrata Torrent Falls
Red River Gorge, Kentucky
Imported from Switzerland
The Torrent Falls Via Ferrata story started with the Vision of a young Swiss rock climber and expert in the Via Ferrata world, Laurent Horvath. With passion, he climbed more than 200 via ferrata all over Europe. In 1998, he launched the first online viaferrata website: ViaFerrata.org. The site received up to 2 million visitors during the past years. In 1999, Laurent lived in Cincinnati, OH, USA. He had one dream: to bring his passion to the USA.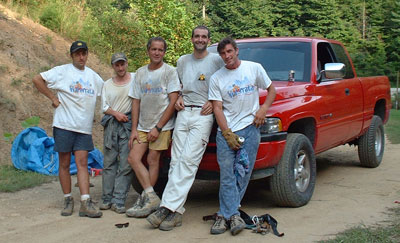 On September 2000, during a trip to the Red River Gorge, KY, he discovered a place owned by the Meyers family. This place was well suited for a via ferrata.
Of course, the Meyers family had never heard about the Via Ferrata and was very skeptical. During that winter, Mr. Horvath came back several times to the Red River Gorge to convince Mark and Kathy Meyer.
In March 2001, Mr. Horvath invited the French via ferrata enterprise Rock to evaluate the potential. Didier and Christian designed a path.
Ann Moos: How were the first steps?
Laurent Horvath: It was not easy. Mark and Kathy did not speak French and Christian and Didier did not speak English!!! I had to translate everything. When Didier and Christian came back home, I had to go the to Meyer's home in Red River Gorge to make the phone calls to France. Finally, after several months of efforts, the Meyers agreed to move ahead with the project.
Ann: What did you do then?
Laurent: With Kathy and Mark Meyer, we had an oral agreement. As the know-how was based in Europe (suppliers, climbing gears, etc) and I had the experience of the Via Ferrata, I planned everything.
As a business expert, I also prepared the marketing strategy (flyers, website, promotion, etc). It was an excellent deal for the Meyers. They had nothing to do. In exchange for my work and expenses, I would receive a license fees based on the entries.
Ann: How did the construction go?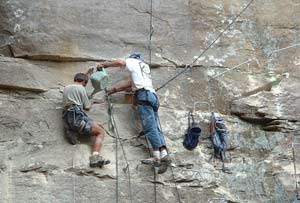 Laurent: Mid-August 2001, the French company arrived with a staff of 3 workers including the owner Christian. It made it interesting that none of Christian's crew spoke English! But I was there to facilitate the communication. They worked very hard and did a very good job. I am so glad I selected them.
It took them less than two weeks to build the Via Ferrata. During that time, I prepared the commercial strategy and the promotion material. I printed thousands of flyers, hundreds of t-shirts, etc…
Ann: The Via Ferrata opened on September 8, 2001 and everything was ready?
Laurent: Indeed. The PR strategy worked very well. Many articles were published in the Cincinnati Enquirer and most of newspapers in KY. The buzz worked way above my prediction. Week after week, we had more and more climbers. After the first season, it was an amazing success. The Meyers were already able to pay back part of their investment.
Ann: Who assisted the initial climbers and guests?
Laurent: I did. I came 3 days per week until the end of November 2001. People may remember me as "Kiwi". Nicole, Kathy's daughter, was also there, but she was very young at this age. Mark was cooking hamburgers on the camp. Interestingly, he had never actually climbed the whole via ferrata. He came up only once to take the picture for the flyer (laugh).
Ann: Any other interesting anecdotes about your path to building this?
Laurent: When we wanted to order the Via Ferrata equipment, the US importer had never heard about the Via Ferrata. In emergency, I had to purchase them in Switzerland via my network and have them shipped to Red River Gorge. After, the link was done and Kathy could order the other needed materials.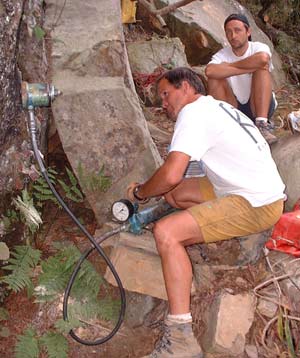 Ann: How did your relationship go with the Meyers?
Laurent: When they realized the success, Kathy and Mark Meyer sized the opportunity with the Via Ferrata. Kathy did not like the B&B business she was running: "It was too much work".
On my side, after this amazing success, I wanted to build more Via Ferrata in the USA. I had a plan to build five to twelve Via Ferratas in the USA.
I shared my plan with Kathy and Mark as I wanted to involve them. Two days later, I received a phone call from their lawyer. I was not welcome anymore at Torrent Falls and the deal was broken.
It was a big surprise. I called Mark Meyer. I will always remember his words: "We are not in Europe. In Kentucky, an oral agreement means nothing. We have not signed our deal. By the way, thank you for your great work and go back to your country".
Ann: How did you feel?
Laurent: At the time: happy and upset.
I felt happy, because I was able to fulfill my dream: to build a Via Ferrata in the USA.
And of course, I was very upset. All the money I invested (flyers, t-shirts, gears, time) and the friendship I had with Nicole, Allie, Kathy and Mark was lost. Furthermore, I knew more via ferrata would be hard to build under Mark Meyer's management.
Ann: How much did you invest and lost?
Laurent: Exactly: US$ 9,758. I'm Swiss! Precision is in my DNA. It does not include the time I spent down there. In comparison, the Meyer invested a little more than US$50,000 to build the via ferrata. Few years after, they sold their B&B as they made a substantial incomes with the Via Ferrata. Today, Nicole and her husband are running the via ferrata. Nicole is a very smart woman and she loves climbing. Allie is also a very sweet person.
Ann: Do you know why Kathy and Mark changed their mind?
Laurent: Kathy really hated her business at her B&B and she saw an escape to a better future. She decided to take a lawyers to break the agreement and stop the trade mark process I started a year ago. She knew I invested all my savings. In the US, the lawyers are very expensive. Short of money, I had to give up.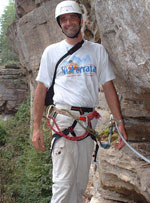 Ann: Why did you not secure a written agreement before starting the construction?
Laurent: I wanted to, but Kathy and Mark always found a way to delay this process. They always wanted to modify something. For me, personal trust is essential. We had an oral agreement and we were working on details.
Ann: What did you learn?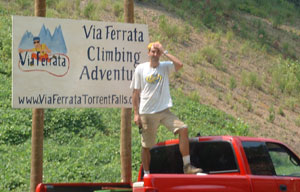 Laurent: (laugh) In the USA, don't trust a handshake deal. Get everything in writing. When the money starts pouring in, the memories begin to fade. They call it 'selective memory' in the US.
Ann: Do you think that one day the Meyers family might decide to pay you back?
Laurent: Kathy and Mark made hundreds of thousands of dollars with my vision, my idea and my $9,758 invested.
I was a partner in the business because of what I uniquely brought to the table. It was only because of what I contributed that a profitable business was created. But they decided to finagle a few extra dollars in the short run into their pockets. It's a shame, because if had we continued to work together, they could have made so much more. They chose to grab the whole pie for themselves.
But when you earn money that way, it is a bad karma. It only brings bad luck.
Today, I have enough money to live very well. I have a Foundation (Via Ferrata Fondation) to help young teenagers. We organize free tours in various via ferrata. If $ should come back from the Meyers, or other sources, all this money would go into the Foundation to help others.
I know the Meyers family doesn't feel very good with their behavior and their decision. Their conscious must bother them, because time ago, one member of the family contacted me to apologize. I presume, they know something is wrong but publically they can not admit the truth. This "secret" must be hard to carry, but this is their problem!
Ann: When you came back to Switzerland, what did you do?
Laurent: I directed the world wide Marketing for the International Cycling Union (UCI) and then I participated in the launch of a new TV Network based in the USA: Universal Sports. I directed the TV-Internet acquisitions for all Olympic Sports. I have two MBA in Business and in Marketing.
I continue to move on with my passion for the sport and doing all I can to get it out to as many people as possible in a Via Ferrata.
If you may, I would like to add: When you have a dream, go for it with hard work and conviction. Because of my vision, many people are discovering new emotions, sensations and joy. This gives me great joy.
Ann: Any regret?
Laurent: Yes, there are not enough via ferrata in the USA.
Ann: Thank you very much for sharing, for your honesty and for some of the exclusive pictures you took when you built the via ferrata at Red River Gorge.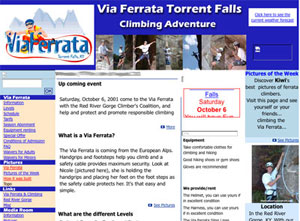 The first version of the ViaFerrata Torrent Falls.com launched by Laurent Horvath
September 8, 2001